Rapellons que les Terres Australes et Antarctiques Françaises sont constituées de 5 districts dont l'archipel des Crozet, les 4 autres étant les Kerguelen, les îles Saint-Paul et Amsterdam, la Terre-Adélie et les îles Eparses de l'océan Indien.
The Crozet Islands are a sub-antarctic archipelago of five small islands in the southern Indian Ocean. They form one of the five administrative districts of the French Southern and Antarctic Lands.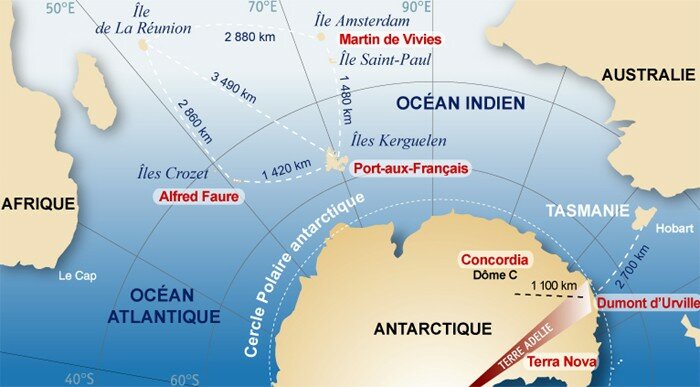 Les Crozet se trouvent entre Madagascar et l'Antarctique et sont formées de 5 îles volcaniques.
La base scientifique du district est la base Alfred-Faure qui se situe sur l'île la plus grande, l'île de la Possession. Une vingtaine de personnes y séjournent l'hiver, et plus trentaine durant l'été austral. Le reste de l'archipel est bien sûr inhabité.
The Crozet Islands are uninhabited, except for the research station Alfred Faure (Port Alfred) on the East side of Île de la Possession, which has been continuously manned since 1963. Previous scientific stations included La Grande Manchotière and La Petite Manchotière.
Il faut noter sur cette lettre la jolie flamme postale qui nous montre la parade nuptiale du grand albatros (Diomedea exulans). Bertrand Imbert illustre le timbre gravé de 2014 à 0,66€. Il fut ingénieur de l'Ecole Navale, explorateur de la Terre-Adelie, chef des expéditions antarctiques françaises et résistant au sein des Forces françaises libres.