Commençons l'année en beauté avec cette superbe lettre indienne. Elle comporte un bloc-feuillet de quatre timbres émis le 6 Octobre 2010 consacré aux timbres des Etats Princiers de l'Inde.
To begin 2013, I'm happy to share with you this wonderful Indian cover with a 2010 souvenir sheet dedicated to the very interesting philately of the Princely States in India. Thank you so much Shrikant!
Pendant la colonisation britannique de l'Inde, un certain nombre de territoires gardèrent une certaine autonomie (toute relative!) sous le nom d"Etats Princiers des Indes. Ils avaient un souverain et un peu plus d'une trentaine d'entre eux émirent des timbres. Sur le bloc, on peut admirer de gauche à droite des timbres des états de Holkar (Indore), Sirmoor, Bamra et Cochin.
There were officially 565 princely states in India at the time of independence in 1947, but the great majority had only contracted with the Viceroy of India to provide public services and tax collection. Only 21 major ones had actual state governments, and among them only four were large (Hyderabad State, Mysore State, Jammu and Kashmir State and Baroda State). They acceded to one or other of the two new independent nations between 1947 and 1949. The accession process was largely peaceful except in the case of Jammu & Kashmir (which became bitterly divided between India and Pakistan) and Hyderabad. All the princes were eventually pensioned off.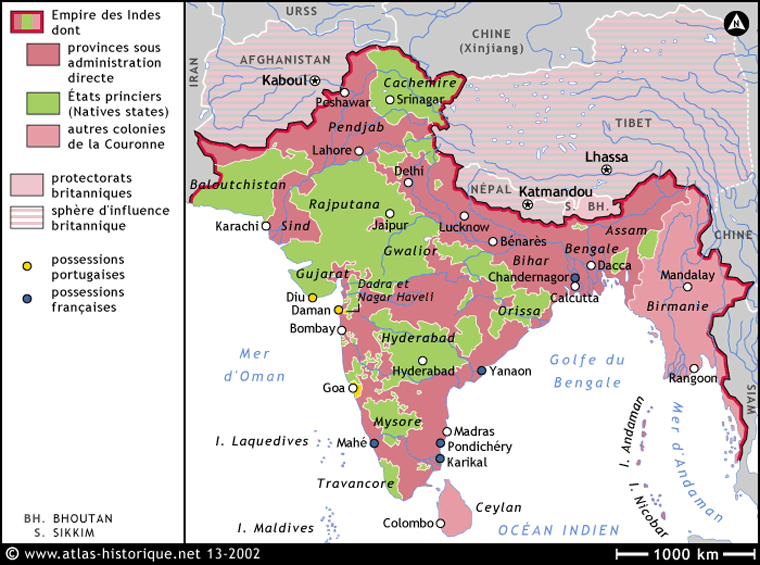 Shrikant a complété son envoi avec un timbre à 5 roupies issu d'une série de 6 consacrée à d'anciens bâtiments postaux. Merci et meilleurs vœux pour 2013!